Product specifications:
Charging input: USB charging
styleA/B Size: 218mm*528mm*95mm
syyleC Size:180mm*422.8mm*80mm (smaller)
Color: white
Product features:
1. Effective pest control:
Tired of ineffective bugs?
With its 3000 volt grid, our electric killer is an innovative upgrade. Kill flies, mosquitoes and pests immediately upon contact. Annoying insects are now a problem of the past.
2. Easy to use: Our powerful mosquito killer is specially designed with blue light attractant to bring insects to you. With a rack-mounted frame and an ergonomic handle, pests can be eliminated with only one swing.
3. 24-hour protection: It is a must-have item for camping trips, barbecues and afternoon parks. Our Electric mosquito swatter can be used anytime, anywhere. With super bright LED light, it can be used at night or when the light is insufficient.
4. Fast and convenient charging: It is convenient to charge via USB through the attached cable. All this is due to the powerful built-in lithium battery, which can provide 10,000 clicks on a single charge.
5. [Touch safety] Taking into account the safety of the family, the racket has an activation button and a light-emitting indicator. Equipped with a three-layer mesh, you don't have to worry about accidental flapping.
Package includes:
1x An electric mosquito swatter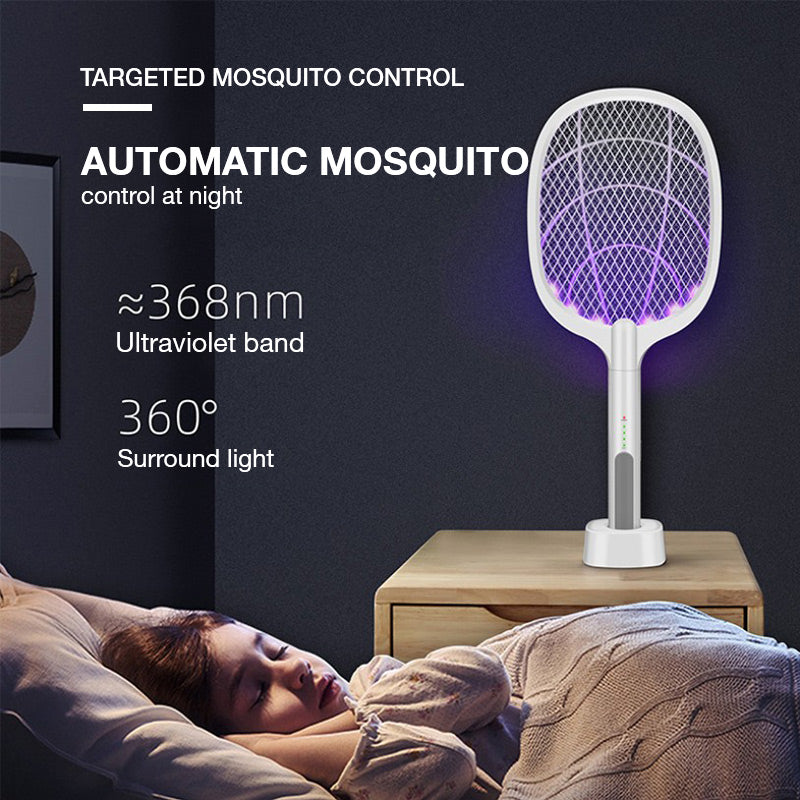 DOUBLE SWITCH, SAFE DESIGN, SAFE TO TOUCH:
Double switch, safe design When manually killing mosquitoes, you need to turn on the function switch, and then press and hold the strong power button to start the working mode, to avoid accidental electric shock to family members or children, and use more CafePress the activation button on your bug zapper racket, and an indicator light on. A triple-layer safety mesh protects you from electric shock.